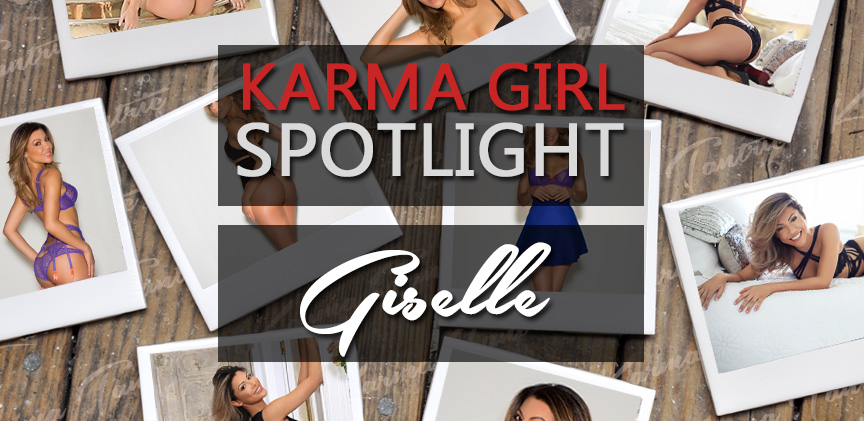 Erica provides deeper insight into Karma Girl Giselle in Paddington
Hi readers,
We have all seen and read through some of the fabulous profiles of our Karma Girls but what about the lady behind the pictures?. Each and every one of the Karma Girls is individual in her experience, skills and approach to erotic massage. To shed light on this, I have decided to focus on each Karma Girl in a new range of articles. For our very first spotlight article I have chosen one of our most vibrant Karma Girls, Giselle.
I hope you enjoy a little more insight into our ladies and as always your comments and emails are greatly appreciated.
Erica
x

It was around 2 years ago that Giselle made her first application to become a Karma Girl. She wrote how she loved the idea of providing such a wonderfully pleasurable experience to her clientele and how after reading through the Karmatantric website, she felt she had finally found the right place. Her accompanying photos suggested a stunningly beautiful brunette in her early twenties with a gym toned physique. An interview was arranged the very next day to find out more.
I will never forget the first time I had the pleasure of meeting Giselle. The revolving doors into the lobby I was seated at spun and there she was. Lead by a huge friendly smile, she elegantly made her way to my table, introduced herself and took a seat. The most pleasantly surprising thing was that after speaking with her over a Jasmin Tea I knew that her stunning latin looks were only a complement to her fabulous personality. – Anthony Karma
Two years later and Giselle has proved herself as one of Karma Tantric's most accomplished masseuses. Originating from Portugal, she is based in a beautiful apartment in Paddington which she is very proud of. 'My home is a place of peace and tranquility' she said. 'I love to receive people here and they always have very kind things to say about my place'. It's probably no surprise that when asked, one of her most favorite pastimes is having friends over for a meal and some nice wine.
I am a qualified sommelier and love the study and taste of great wines. Wines have history, depth and each have a different story to tell. It's not a world away from the people I meet while working as a masseuse. I love to connect and appreciate people the same way I do with a fine vintage. – Giselle
Giselle tells us another love she holds dear is that of sensual massage. She is constantly striving to provide the very best service possible and genuinely enjoys her work. You can definitely feel her passion as she speaks about it. Her beautiful smile widens and her charisma becomes an unmissable energy that radiates to all who have the pleasure of being in her company. As she speaks I realise why she regularly receives such amazing feedback from the clients she sees.
Sensual massage is just perfect for me and my life. I am a naturally giving person and have lot's of positive energy that needs sharing. I guess my latin blood gives me a passion and appetite for all things and what better way to share that through erotic massage. My favorite massage is Aqua tantric. I have a walk in shower room that is just perfect and really works well in candlelight – Giselle
As well as an Aqua or Soapy Massage, Giselle offers a wide range of other Karma Tantric massage experiences. From our Classic body to body massage to Dark tantric massage, her compassionate giving nature accompanied by a sheer love for pleasuring others makes her one of the most sought after masseuses here at Karma. Whichever massage she performs, her client feedback suggests her technique is unrivaled and comes highly recommended.
For those who may be interested in a four hand massage with two ladies, Giselle loves to team up with other Karma girls for both individual and couples sessions. She tells us her favourite massage partner is Arianna. They have built a strong friendship through their time at Karma tantric, providing a spellbinding couples massage together due to their natural chemistry. A four hand with these two is most certainly double the fun. Two bubbly beautiful girls with techniques that compliment each other for the ultimate latino 4 hand massage in Central London.
To conclude, Giselle is a very special young woman, we are honored to call her a Karma Girl! She oozes seductive confidence that will immediately put you at ease, she uses her incredible figure in the most magnificent way possible to lure you into a hypnotic state of erotic bliss.Giselle has captured the perfect essence of tantric massage and added her own enchanting twist. A beautiful blend of soft sensuality with her playful nature shining through.
Based in W2, Giselle's plush London incall location is easily accessible from a number of underground tube stations. London Paddington Station is the closest at a 6 minute walk and Bayswater station is an 8 minute walk.Step into her sanctuary, greeted by the sweet scent of burning incense along with Giselle's radiant smile and seductive charm. Relax in the immaculate and luxurious surroundings, starting with a hot shower to freshen you up after a long difficult day.
Erica
x

More about Giselle…
If you would like to book Giselle for the perfect sensual massage incall or outcall, contact our friendly bookings team on
0207 898 3212
.
For more information and pictures please
click here to view Giselle's full profile.