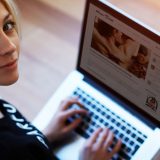 Another Coffee?
I'm impressed that the waitress at my favourite coffee shop has recognised the frequency I reorder in and has offered me a refill almost exactly when I felt I needed it. This is my usual spot. Right here in the corner, looking out towards the door with a tall Americano in my hand and my laptop open. I am Erica Suarez-Hillingdon, editor & writer for The Karma Tantric Magazine.
After 4 years writing short stories and articles in the mainstream, I decided to leave it all behind and embark on a soul searching tantric journey to some of the most incredible places on the earth. From the Osho Tantra festivals in India to incredible tantra workshops in Zurich, my 2 year journey quickly turned into a spiritual awakening that has coloured and awakened my true self experiencing tantra around the world.
Upon returning to London, I explored further into the different massage offerings available in the Western world and the erotic wonders involved. I realised that the authentic tantra I once experienced had evolved into modern body to body massage. My travels and personal experiences in erotic massage had now given me a unique perspective into Tantra's progression and the influence it has had in modern times.
Since then, I have spent the past 7 years avidly writing and immersed in all things Tantric and sensual massage related. Sharing my experiences and findings with others through my writing is deeply satisfying and my readers keep me busy writing informative articles about their enlightening erotic massage experiences.
Now where is that refill?
My Sensual Massage Research
The general lack of data surrounding tantra and modern sensual massage in general, guided me into researching the industry in more detail to support the articles I wanted to publish. This research has helped to uncover some very insightful statistics that I am pleased to offer to anyone who may deem it useful or of interest. If you wish to use my research to support your articles or would like to collaborate please feel free to contact me for a chat. I have a number of questionnaires, surveys, interviews and other stats that you can use so please do not hesitate to Email Me.
Erica Suarez-Hillingdon's Latest Articles