Marie, a married mother, describes her first couples tantric experience with Ellie
Couples tantric massage is something that many couples claim has helped to reignite diminishing passions and healed many broken relationships. It has also been described as a safe environment for couples to explore their sexuality and learn new techniques to please each other.
As the topic gains more popularity and interest, it's important that you and your partner know exactly what to expect during a couples tantric session before you go ahead and organise it confidently. What better way to truly understand this type of session that from a couple who have recently embarked on their first couples tantric journey. It was in fact one of my articles that helped Marie understand the benefits of couples massage and gave her the confidence to try it.
Richard and Marie have been married for 12 years, have a beautiful 3 year old girelliel and are both busy professionals in London. Marie has been kind enough to document her account of the session so we may better understand the experience from her point of view.
Her documentation of her couples massage is quite detailed so I've decided to publish it in two parts for ease of reading. Part 2 can be found here: Diary of a First Time Couples Tantric Massage Session – Part 2 Enjoy..
Erica
x
We aren't swingers nor do I consider myself bisexual. Our sex life, when we really had one, was always 'vanilla' I guess. We really are just a normal couple with a semi detached house in suburbia and a baby. I guess what I'm trying to say is that we are not exactly the most sexually adventurous couple of the century.
So when Richard came to me a few weeks ago suggesting we try an erotic massage, you can imagine it caught me totally off guard. I didn't say much, just that I would think about it. My usual response to something I'm thinking of not doing. A couple of weeks later, late one evening, I came across a random article about couples sensual massage and reluctantly clicked the link to read more. To my surprise I found myself quite engaged in what I was reading. It was actually different to what I would have expected. I asked myself, whats the worst that could happen?
Unfortunately after 12 years of marriage and 17 years of partnership, we had lost the spark we first had in our honeymoon years. At times I used to look at old photographs and remember our more intimate times, when we did have more time for ourselves and each other. I guess work and our child had taken priority with our mental and physical freedom suffering as a result. It kind of just slipped away without us noticing.
I broached the subject with Richard over dinner the next evening, treading carefully to hear his thoughts. I showed him the article, which was actually Couples Tantric Massage Guide, found here on the Karma Tantric website. As we discussed some of the points it covered we realised that Karma Tantric was in fact a tantric massage agency and not just an information source.
From there we agreed that if we were to proceed with this, we should consider booking through Karma Tantric as they seemed to have the most useful information on couples tantric massage online. We did a little further research however no other agency put our mind as much at ease as Karma. We kind of knew we were in safe hands from the start, I tend to go with my gut and it just felt right.
After all, it isn't every day that you invite someone new into your relationship so we knew it had to be perfectly planned.
Richard put the phone on loudspeaker and called the bookings line. My heart started to beat a little faster as it rang and then a friendly voice answered and introduced herself as Lucy, one of the Karma bookings team. She was really helpful and very professional describing the ladies and the different appointment options we could go for. I had a few questions that I prompted Richard to ask and was pleasantly reassured by the answers Lucy gave.
When everything was finalised, I had butterflies in my stomach and felt quite excited. We booked a 90 minutes incall with a couples specialist called Ellie for the following Friday late morning. We both took the Friday off from work in advance and organised my sister to look after the little one. We told everyone we had a meeting with our mortgage broker which seemed like a good cover as our mortgage was up for renewal anyway.
Friday arrived quickly and the butterflies returned. We spent the morning in Mayfair together and had breakfast at a lovely little place. A luxury that we scarcely have time for anymore with full time jobs and a three year old. As we approached the door I felt anxious. Despite all of my womanly senses being on red alert, I still felt curious about tantric massage. I put a smile on my face and tried to push the worries and insecurities to the back of my mind and simply focus on now.
Ellie answered the intercom with an exotic accent and opened the main door, I looked up at my husband who placed a reassuring hand on my back and we walked into the doorway took the lift upstairs and were greeted by a very attractive blonde lady who looked exactly like the pictures we had seen on the website. She had a nice smile and a similar hourglass figure to mine. Dressed in a silk gown, lovely lingerie, stockings and heels I suddenly felt self conscious of what I was wearing and what underwear I had put on that day.
Ellie offered us a drink and we all sat down together. Introducing herself she went through how the massage would be performed and asked us a few questions. Somehow her presence and smile calmed my nerves. For the first time I took in my surroundings, a very well presented apartment with luxurious carpet that i wanted to sink my feet into. Soft gentle music playing in the background and I recognised the faint scent of vanilla and sandalwood in the air. Sipping on my tea I smiled to myself, this was no where near as scary as I had first thought.
We were offered a shower together and given plush fluffy towels. Ellie turned the shower on and left the bathroom. Richard and I looked at each other and giggled, suddenly I felt like a giddy teenager again. We quickly undressed and washed each other down in the shower, something we hadn't done in years. Sharing a few passionate kisses we dried ourselves off, excited to begin our new experience together.
We had decided that Richard would go first, he lay face down on the massage table completely naked. I watched as Ellie started the massage using her hands, massaging each body part just like you would at a spa. I was thinking how impressed I was at her professional approach and massage skills. I wondered if I should take note of her techniques and give Richard my very own version when we were back at home one day.
Once she had given his back a good massage with her hands, she took off her lacy bra showing off her impressive large natural breasts and began to pour warm massage oil over herself. She gazed over at me while she spread the oil over her front standing in full view of both Richard and I. Richard looked at me with a shy grin and I smiled back like a naughty school child. Ellie began to slip and slide effortlessly over his bum up to his back using all her wonderful curves to glide over Richard. I could see Richards body succumb to the blissful strokes of Ellie's body as she massaged him with her breasts.
I was almost in awe at the expertise that Ellie used her body, strangely for me, jealousy didn't even enter my mind I just felt excitement. The environment was a safe haven and Ellie was our masseuse, arranged for our pleasure and nothing more. Asking Richard to turn over, Ellie beckoned for me to come over. She gestured for me to mirror her hands as she used oil and soft hand movements to massage his chest, arms and legs. My hands rubbed together with Ellie's as I started to learn the strokes she performed. Richard reached up and stroked my leg I looked at him and smiled bending down to kiss his lips.
Continue and read the part two here: Diary of a First Time Couples Tantric Massage Session – Part 2

More about Ellie…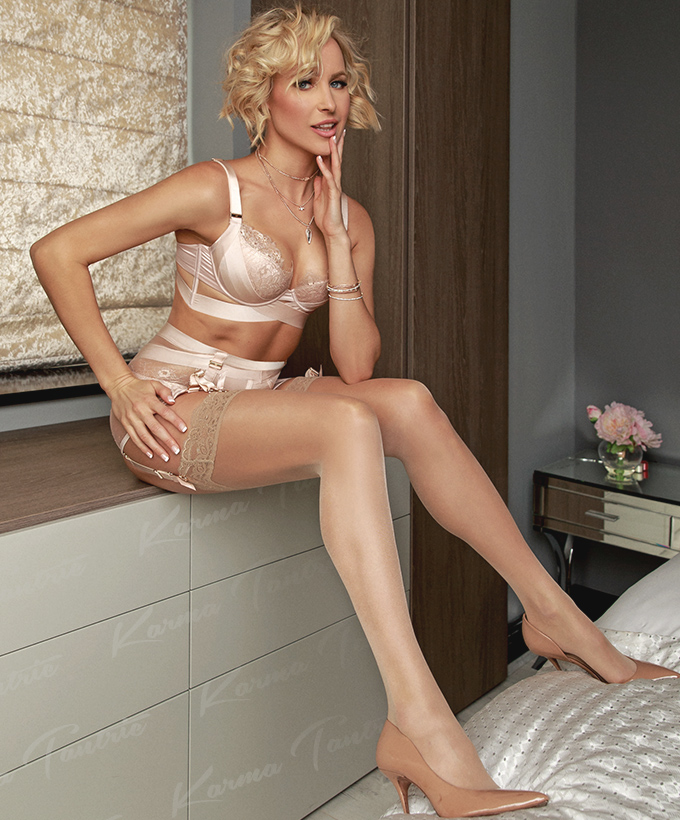 If you would like to book Ellie for the perfect sensual massage incall or outcall, contact our friendly bookings team on
0207 898 3212
.
For more information and pictures please
click here to view Ellie's full profile.
Couples Tantric Massage Articles